Many have understood the meaning of Sankofa, but Ms. Sydni Marie has taken it a step further.  Sydni embraces the movement and new learning that comes with time passing, but, in the same way this forward march proceeds, the knowledge of the past must NEVER be forgotten.  This understanding is translated and sung clearly and truthfully in her debut EP "Sankofa," which takes her experiences, good and bad, and shares them with no regrets and no pretense about those lessons having developed her into the person she is today.   That person is cleverly displayed through her lyrics,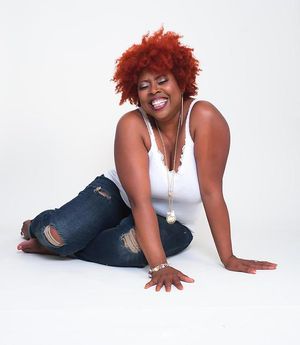 her art, and her honesty through her BRAVE recognition of self.

Born into a family of accomplished musicians, while also being raised in an area flooding with amazing artists (Washington, DC), Sydni can't deny all of the musical influences that crept into her soul with no warning and, yet, became a refuge of expression/a peacefulness to her soul.  She'll never regret slowly and delicately stepping into the world of an Indie artist after years of being an amazing vocalist performing with many bands in the DC, Maryland, and Virginia (USA) area.  Introduced at an early age to a diverse range of music and musicians, her melodic journey included regular performances at many of DC's hot spots with some of the area's finest musicians, who invited her to sing.
 
It only took a small nudge to turn this vocalist into a full-blown artist after she participated in the 2014 Christmas Indie Soul Project as a featured artist produced by her Indie Soul Sistah and current executive producer, Ms. Gwendolyn Collins.  Soon after Sydni Marie began writing her own material and released her first single "Midnight Til Morning."  In June of 2015, Sydni Marie released her second single, a remake of the classic Angela Winbush Treat U Right, which immediately perked the ears of DJs in the states and abroad, leading to a UK Soul Chart and Independent Breaking Artist top 20 placement. 
Sydni Marie's freshman release entitled, "Sankofa", is a quality independent soul album. This was a true testament of understanding the past and using those memories to create art in the present and to forecast the magic yet to come.  Listeners will experience a cheerfulness and such positive energy effervescing through her soprano vocalizing. Sydni brings to life her signature 'southern girl with northern swag' signature style in all of the tracks. From the vibin' "Treat You Right", an instant favorite, to her emotional treatment of 'Acoustically Free', Sydni defines authentic! The album ends on a high note with lady summer's smash collaboration, "I Think I Like You"' featuring Ms. Gwendolyn Collins and Ms. Mycah Chevalier.


~"Music is my refuge, soothing and healing to my soul…."Sankofa" ~SydniMarie